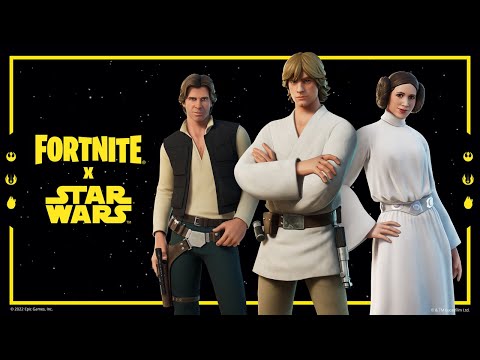 I spelet Fortnite är det åter dags att plocka upp ljussablarna och få lite Star Wars-känsla.
Det var inte längesedan Fortnite-ön hade en krashlandad Darth Vader med stormtroopers på besök. Nu är han tillbaka och vi kan spela som Leia, Han eller Luke. Vi kan antingen svinga gröna och blå ljussablar eller ta det röda svärdet från Darth Vader. Men favoriten är ändå stormtrooperblastern, E-11 Blaster Rifles, som är något mer pricksäkert än i filmerna.
Skywalker Week pågår till den 8 november 2022, kl. 09.00 ET. Slutför speciella uppdrag för XP när du använder Star Wars-objekten som är tillgängliga under denna tid. Följande kombinationer går att använda.
Via: Epic Games
Luke Skywalker Outfit: Force-sensitive farmer and galactic hero.
Training Remote Back Bling: You better get on with your exercises. (Included with the Luke Skywalker Outfit.)
Slugthrower Rifle Pickaxe: Trusty rifle to have at your side while navigating the Jundland Wastes.
X-34 Landspeeder Glider: Ever since the XP-38 came out, they just aren't in demand.
Leia Organa Outfit: Princess. Senator. Rebel. Icon.
R2-D2 Back Bling: Plucky astromech droid. (Included with the Leia Organa Outfit.)
Electrostaff Pickaxe: One of many weapons in a bounty hunter's arsenal.
Han Solo Outfit: Smuggler. Scoundrel. Scruffy-looking nerf herder.
Millennium Falcon Back Bling: She may not look like much, but she's got it where it counts, kid. (Included with the Han Solo Outfit.)
Vibro-staff Pickaxe: Boba Fett™? Where?